St. John of Kronstadt
His Life

The Man, the Times, the Beginnings
THE NINETEENTH CENTURY in Russia was a time of considerable religious revival, and one of the most notable features of this revival was the way in which many thousands of ordinary people, of all classes and callings, flocked for spiritual advice - and, indeed, for temporal advice as well - to elders or startsi, who exercised in this way a remarkable ministry. But while all the startsi were monks - among whom special mention must be made of the greatest of them all, Saint Seraphim of Sarov (born 1759, died 1833, canonized 1903), and the several great spiritual directors of the monastery of Optino, the last of the famous spiritual teachers of imperial Russia was a married parish priest. On the eve of the revolutionary upheaval, in which the Russian Church was to be tried in the fires of a persecution unequaled in extent or fury by anything the church had suffered in sixteen centuries, it was no monk, but an ordinary priest of an ordinary parish, no elder in some sheltered conventional retreat, but a man who had to find Christ in the hustle and bustle, - squalor and misery - of a great seaport, whom God sent as a sign to his children, to strengthen them for the horrors to come. The teaching of this man reflects him and his circumstances - it is as down to earth, yet as caught up to heaven, as the man himself: intensely practical, intensely demanding - and, inescapably, possible for all.

John Ilyitch Sergieff, the son of poor peasant folk, was born on the 19th of October 1829 in the little village of Soura, in the province of Arkhangelsk in the far north of Russia (typically, in the midst of his amazingly full life, Father John never forgot Soura: he visited it every year, and bestowed many gifts upon it, among them a new church and a school). The beauty of the natural environment of his early life - for Soura was situated amid majestic scenery - greatly impressed the boy, and throughout his life he was acutely aware of the spiritual witness of the material world to its Creator.

His parents, poor and simple though they were, took great pains with his education, both spiritual and temporal. From the first he displayed understanding of, and love for, the services of the church; but his intellectual development was delayed, for he had great difficulty in learning to read - he himself tells us that he could still read only block capitals when, at the age of nine, he was sent to school in Arkhangelsk. Still making little headway, and grieving bitterly over it, for he knew how difficult it was for his parents to find the money for his education, he prayed earnestly for divine enlightenment, and one morning, after he had risen during the night and prayed while his companions slept, he found himself able to read easily, and to understand what he had read.

From school, where he had gone to the top of his class, he went to the seminary. From there, once more at the top of his class, he was sent in 1851, at government expense, to the Theological Academy of Saint Petersburg. While he was there his father died, and it was with great thankfulness to God that he accepted the post of registrar - offered to him on account of his perfect handwriting - and was able to send his little honorarium of ten rubles a month to his mother.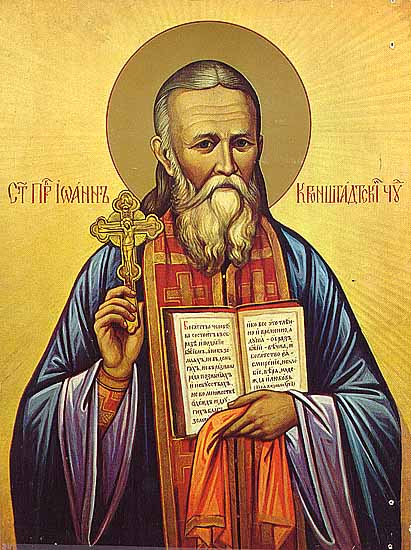 Having considered becoming a monk, and going to eastern Siberia as a missionary, he came to the conclusion that there were many people around him as unenlightened as any pagan, and he decided to work for their salvation, after a dream in answer to prayer, in which he saw himself officiating in some unknown cathedral.

His Ministry Begins
SOON AFTER completing his studies he married Elisabeth, daughter of the Archpriest K. P. Nevitzki, and he was ordained priest on the 12th of December 1855. Appointed as assistant priest at Saint Andrew's Cathedral, Kronstadt, when he entered it for the first time he recognized it as the church he had seen in his dream; and there, first as curate, and afterwards as rector, he served throughout the fifty-three years of his ministry. Cherishing a lofty ideal of the priestly vocation, he continued nightly to study and pray that he might perfect himself in it, while during the day he devoted himself to the many poor of his parish.

The inhabitants of Kronstadt, a naval base situated on an island at the mouth of the Neva, not far from Saint Petersburg, were in 1855 drawn largely from the very worst elements of the population of the capital, and much of the place was a festering sore of sin and filth, of poverty and misery, of disease and starvation. Father John, whose predecessors, apparently, had hardly even dared to penetrate the worst parts of the town, spent much of his time there, striving to heal bodies and souls alike, attracting to himself first the children, and then, through them, their parents. Often he found no time to eat until the late evening, and even then he would sometimes be summoned out again, and not return before the small hours; he gave away his own shoes, he gave away the housekeeping money: his wife gradually accustomed herself to it, and finally became something like his keeper.

His Fame Spreads
HE LIVED in a sparsely furnished cottage on the seaboard. Soon he found he was unable to go out of his house without being attended by a crowd, which would wait at his door or the door of the cathedral, and would follow him through the streets. Early each morning, after a period of intense prayer before an icon at home, he would go to church - as usual, through a crowd - and there sing the liturgy in a deep, clear, and powerful voice. He usually celebrated the Eucharist or at least communicated every day. Afterwards he would make twelve or fifteen sick calls, fulfill teaching engagements, and often go into Saint Petersburg for more of the same. His renown as a powerful intercessor and healer grew very rapidly, and spread throughout the country. He continually received appeals for spiritual and material assistance, none of which went unanswered. He received scores of visitors daily, and hundreds of letters, while the crowds pressed round him wherever he appeared - in the streets of Kronstadt or Saint Petersburg, at the railway stations, everywhere. In summer he would talk with the poor in the fields outside the town, sitting on the grass, with the children by him, and the adults standing or sitting around. Rich and poor, he was ready to help all, and he treated all alike - often some important personage, with whom he had an appointment, had to wait for Father John who was delayed by answering the urgent appeals of the crowds of poor people. It is not surprising to learn that he habitually walked fast!

In 1857 he was invited to teach the scripture in the municipal school at Kronstadt, and he accepted with joy, for he loved children, and always took great pains with them. He was much loved in return by his pupils - some delightful anecdotes survive on this score, which unfortunately we have not the space to recount - and on this he based his authority; he never needed to use either severity or mockery. The bible, he held, should not be taught just like any other subject, but with faith and love, to awaken faith and love in others, and the measure of his own success may be estimated from the fact that, while he never insisted that his pupils must go to church, they all went when he celebrated. When his fame had spread and he was constantly visiting Saint Petersburg, then to his own, his colleagues and pupils great regret, he was forced to abandon his teaching post. Another object of Father John's concern and labor was the removal of the widespread poverty that afflicted Kronstadt. At first he gave these beggars money for food and shelter, but he soon came to see that this was not merely useless, but positively harmful. In 1868 he conceived the idea of founding a House of Industry, comprising a number of workshops, a dormitory, a refectory, a dispensary, and a primary school. He formed a committee, and appealed for funds. His appeal was answered by rich and poor from all over Russia, and the House of Industry was founded in 1873. Father John administered a total of over $25,000 a year in numerous charities, half of it in Kronstadt.

How did he manage to do it all? He had the ability - acquired, no doubt, by prayer and patience - to snatch a short period of deep sleep wherever and whenever he got the chance; and he had a great love of the early morning hours for prayer and meditation, but his early morning walks in his garden were soon discovered, and then - farewell to solitude! Often, indeed, he could barely save half-an-hour for his own prayers. On the rare occasions when he was able to pass a whole day in Kronstadt he liked to walk in the streets toward midnight, praying and meditating: if he saw a light, however, he would knock - often to comfort someone ill or dying, but just as ready to join in laughter and cheerful conversation, if that should be what he found. It is not surprising that he had moments of depression through sheer fatigue; he had been beset in the same way in his student days, then later he overcame them, as he overcame all, as he achieved all, by prayer and, above all, by devout reception of the holy communion.

He himself declared that only by partaking of the Body and Blood of Christ every day was he able to accomplish tasks, otherwise beyond human powers. When he came to partake of the Blessed Mysteries he would be utterly transfigured: all weariness, all burden of trouble and sorrow gone, and every line of his face reflecting an extraordinary spiritual joy, heavenly peace, and a great feeling of strength and power. Is it any wonder that his church was packed to the doors, Sundays and weekdays alike? The great cathedral of Saint Andrew at Kronstadt could hold seven thousand people, and when Father John celebrated the liturgy it was so crowded that, as the Russian saying has it, "even an apple could not have found room to fall to the ground".

Not Everyone Loved His Conservatism
LOVED ALIKE by rich and poor, by nobleman and beggar, Father John was not, however, universally popular. There were those who looked upon him and his works with jealousy and ill will, particularly among clergy and civil servants there were many who disliked him. On the other hand, towards the end of his life, his conservatism, authoritative and outspoken, on matters of principle, both theological and political, aroused the bitter enmity of the liberal pseudo-intellectuals who were zealously preparing the way for the overthrow of both church and monarchy, and with them of every public and private virtue, and the establishment of an ungodly and inhuman tyranny. They could not but hate one who saw them for what they were, who preached Christianity so powerfully and persuasively, and whose own life was an example of it far more persuasive than any preaching.

For his part, Father John during his last years constantly predicted the approach of terrible events in Russia, and openly denounced those who with increasing success were leading people astray, above all those in positions of authority. In all his sermons of 1907 he spoke of the terrible judgment of God, and urged the need of repentance and a return to common sense, declaring that if Russia ceased to be Holy Russia, she would become nothing more than a mere horde of tribal savages, intent upon destroying each other.

Father John's health began to decline in 1906, and towards the end of 1908 he became very ill, and was unable to get any rest from his sufferings, except during his daily liturgy, which he continued to celebrate as long as possible, doing so for the last time on 10 December. He still communicated daily, but on 18 December he fell into a coma, from which, however, he awoke the following evening, much afflicted in his soul. Having with great difficulty received communion for the last time, he died at twenty minutes to seven on the morning of the 20th of December.

His body was taken solemnly to Saint Petersburg, and there interred in the great church of the convent of Saint John, which he had founded. The whole route of the procession, from Kronstadt to Oranienbaum, and again from the Baltic station to the convent, was lined by weeping crowds, mourning the loss of their father and intercessor; even the choir of the imperial guard, who sang the requiem, were unable to restrain their tears. At least sixty thousand people attended the funeral.

He who in this life cared so much for his children, and interceded for them so powerfully, has not abandoned them: the stream of healing, both bodily and spiritual, through his prayers, has not ceased to flow. During the few years between his death and the catastrophe of the Communist revolution, which he foretold, pilgrims journeyed to his tomb. Now the pilgrims come in even greater numbers.